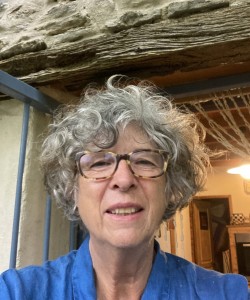 Marie-Claude Treilhou contributed to the magazines Cinéma and Art Press from 1974 to 1977. After working as Paul Vecchiali's assistant on Corps à cœur in 1978, she began directing in 1979 with Simone Barbès ou la Vertu. The material for this film was nourished by the experience of the director who worked for a long time as a saleswoman, errand girl, investigator, cashier, usherette...
Navigating between fiction and documentary, she won the Jean-Vigo prize for her short film Lourdes, l'hiver. After L'Âne qui a bu la lune, an adaptation of tales from the South of France, she exceptionally called on professional actors for Le Jour des rois, or the madcap escapade of three old ladies played by Danielle Darrieux, Paulette Dubost and Micheline Presle accompanied by Robert Lamoureux and Michel Galabru.
But Marie-Claude Treilhou's heroes are most often ordinary people confronted with the great upheavals of History or carried by a work that transforms them and whose enthusiasm, perfectionism and grace she wants to communicate through her documentary work: Il était une fois la télé (1985), Comme si, comme ça with the poet and thinker Michel Deguy (2019), and her musical triptych Au cours de musique (2000), Les Métamorphoses du chœur (2003), Couleurs d'orchestre (2008).
Marie-Claude Treilhou makes a few appearances in films of friends such as Corps à cœur by Vecchiali and, conversely, brings together Claire Simon, Dominique Cabréra, Alain Guiraudie, André Van In and Ingrid Bourgoin (who played Simone Barbès) in Un petit cas de conscience in 2002.
Today, Marie-Claude Treilhou teaches at the Ateliers Varan en Occitanie (Occitanie being the region she is originally from), a documentary film training workshop based in Paris.
In 2021, Marie-Claude Treilhou is the guest of honor at the 37th Rencontres Cinéma de Gindou in the Lot (August 21-28), a retrospective of her films is scheduled in her presence.