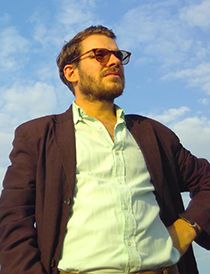 Born in Brussels, Geordy started at the age of 9 his acting career that he continued for about fifteen years (Le Couperet, Anna M...) before turning to his first passion by directing music videos and commercials.
In 2018, he directed his first short film, Lucienne mange une auto with Stéphane Caillard, which won several awards in prestigious festivals (Best Short Film "Noves visions" at the SITGES - International Fantastic Film Festival of Catalonia, Best Actress at Fantasia, the France 2 Award at the Film Court de Brest and the Special Jury Award at Un Festival c'est trop court!) and was broadcast on France 2.
In 2021, he directed two short films:
- La Flûte enchantée, a whimsical comedy with Esdras Registe and Guillaume Dietrich, supported by the department of Seine-Saint-Denis, currently in festivals (audience award at the Contis Festival, Lotus Production award at Alice nella Citta in Rome),
- and Lucienne dans un monde sans solitude with Stéphane Caillard and Cédric Kahn, a fantasy drama supported by the CNC, France 2 and the region of Brittany, which will begin its journey in festivals in 2022.
Geordy is currently writing his first feature film.