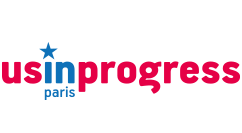 Selected films
 – Beneath the Harvest Sky by Gita Pullapilly
– BFE by Shawn Telford
– Children by Jaffe Zinn
– Ping Pong Summer by  Michael Tully
- I believe in Unicorns by Leah Meyerhoff
– 1982 by Tommy Olivier
US in Progress is a joint initiative between the American Film Festival in Wroclaw, Poland, the Champs-Élysées Film Festival in Paris and Black Rabbit Film. It is the first and only professional event dedicated to the independent American cinema which happens twice a year – during each festival. Movies that were featured at recent US in Progress events have gone on to be selected for festivals such as Sundance 2013, the Berlinale 2013, SXSW 2013 and Tribeca 2013.
The point of US in Progress is to present American independent films in their post-production phase to potential European buyers in order to encourage their distribution and broadcast across Europe.
Why create an event in favour of the American cinema in European?
There is no doubt in anybody's mind that today the European market is dominated by American films. But by American films we generally mean big budget films produced by big studios. These films are no doubt entertaining, but they reflect only a portion of what the US is all about. Outside of the big studios, there is a dynamic and interesting group of people making independent films. However, this other, independent, world lacks an efficient international strategy and European buyers are often unaware of the films being produced.
Thus, US in Progress aims at building new bridges between today's up-and-coming generation of talented American filmmakers and European buyers. In a word, we want to present the new faces of the US cinema to the European market.
For its second edition within the Champs-Elysées Film Festival in Paris, US in Progress will present four to six selected feature films to about forty potential buyers, distributors, festivals and European producers. It will be the first time any of the selected films are presented to the European market.
Endowments
All of the partners of US in Progress are proud to offer a series of benefits to the winning film:
Digital post-production work (2k or 4k) or a cutting room lent by our partner company Commune Image.
The colorimetric software suite Firefly will be at the filmmakers' disposal and Eaux Vives will coordinate post-production work.
TITRATVS will edit the subtitles and make a DCP in original language with subtitles.
Ciné+ will buy the film and broadcast it on the Ciné+ Club channel
The producer's name will be added to the Producers Network list.
The movie will be promoted by a network of thirty-five European distributors and the one hundred and ten members of Europa Distribution.
The film will also be promoted and supported by TousCoprod and its partners
Organizers
US in Progress Paris Partners