What is the Festival Pass?
The Festival Pass grants access, subject to availability, to all the screenings and events of the Festival[1], from 10 to 16 June, including Competition screenings, Premieres, Master Classes, Special Screenings and more.
In addition, the Festival Pass grants privileged access to the Closing Ceremony (screening and awards ceremony) where the Festival's guests will be present (artists, professionals, Festival partners, etc.) within the constraints of 200 available seats, exclusively reserved for Festival Pass holders. The Ceremony is followed by the "all inclusive" Closing Party at Club 79.[2]
And for the first time this year, from 10 to 15 June, Festival Pass holders enjoy access to an exclusive drinks lists with discounted prices at our partner Faust, the absolute meeting spot for festivalgoers after the screenings. From Wednesday 10 to Saturday 13 enjoy free access to the Tunnel, the Faust's club, and dance until the early hours of the morning!
[1] Except the Opening Night, Professional Programs (US in Progress Paris, Paris Coproduction Village and Round Table) and Charity Evening Les Toiles Enchantées. If you wish to attend the Charity Evening for Les Toiles Enchantées, you can buy tickets at champselyseesfilmfestival.com
[2] Only the 200 Festival Pass holders present at the Closing Ceremony will be given invitations for the Closing Party at Club 79. These invitations will be issued during the Closing Ceremony.
Festival Pass prices
Adults: 49€
Under age 26: 35€
Where can I buy a Festival Pass?
At FNAC box offices from 15 May  2015
Online, at champselyseesfilmfestival.com or at fnac.com, from 15 May 2015,
On-site at Publicis Cinémas from 3 to 5 June 1pm to 7pm, 6 & 7 June 10:30am to 7pm, and 8 June 1pm to 7pm and then at the Accreditations Desk (WiFi-Café Orange), 9 to 16 June, 10am to 8:30pm.
After your purchase, you'll receive a receipt (box office purchase) or a confirmation email (online purchase) with complementary information about the steps required to create your Visitor Page profile and to collect your Festival Pass. We strongly advise you to complete your Visitor Page profile ahead of the festival in order to save time when picking up your Festival Pass. If you don't have Internet access, you can complete your profile on-site, when you collect your Pass.
Please keep your proof of purchase – printed receipt or confirmation email – and present it with an official ID document at collection of your pass.
Picking-up my Festival Pass
The Festival Pass and Festival Bag, containing the 2015 Catalogue and other gifts, are issued on presentation of an official ID document and proof of purchase: receipt (FNAC box office purchase) or confirmation email (online purchase). Passes will not be issued without presentation of these documents.
You can pick-up your Festival Pass from Wednesday, 3 June at Publicis Cinémas and from 9 June onwards at the Accreditation Desk (WiFi-Café Orange). Addresses, dates and opening hours are below: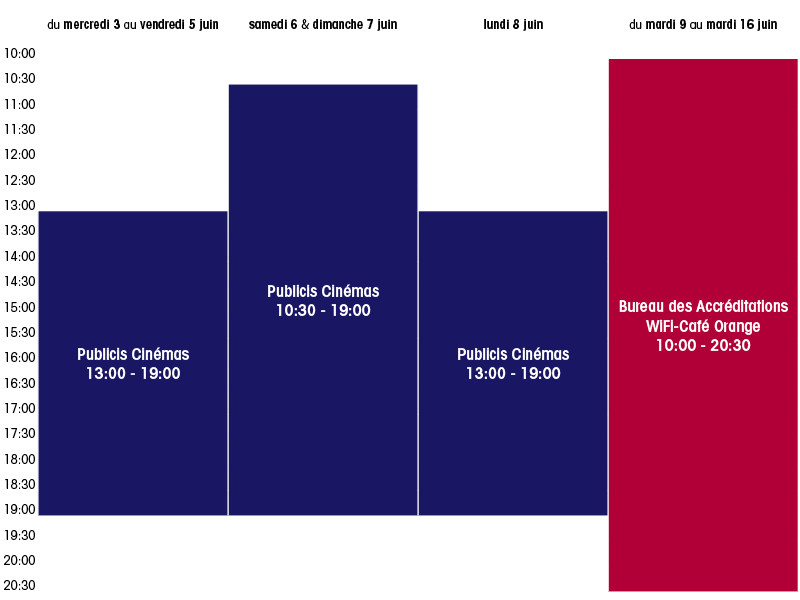 Publicis Cinémas – 129, avenue des Champs-Élysées
Accreditations Desk (Wifi Café Orange) – 133, avenue des Champs-Élysées
Festival Pass Terms & Conditions
The Festival Pass is personal, named and non-transferable. It includes an ID photo that can be uploaded straight into the online form when creating the Visitor Page profile after purchase. Alternatively, a photo is taken at the time of collection, on-site.
To access a screening or an event you must collect your free ticket, subject to availability, at the box-office of the corresponding cinema. All tickets can be collected in advance from Wednesday 3 June from the relevant cinema.
The Festival Pass does not grant Priority Access.